Download Our Westridge Application
Complete a rental application online! You can also download it, fill it out and mail, fax or drop it off at our office. Go to the rental application!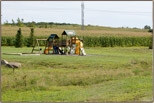 Westridge Village & Park is Charming with Walking Trails and Park!
Take a stroll around the WestRidge neighborhood! Bring your children to the playground or explore the walking trails. It's all within walking distance!
Have Questions about WestRidge Village & Park?
Don't hesitate to give us a call! Call us at 715-832-0022